June Theme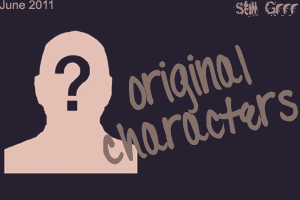 LET'S GIVE SOME RESPECT TO ORIGINAL CHARACTERS!
THIS THEME WILL START WITH PROMPT 224 ON THURSDAY EVENING
We all know that original characters get a bad rep. They are called Mary Sues or self-inserts and a lot of people won't even read a story with an OC in it. Well, we have a feeling that our talented writers and artists can make people LOVE original characters. Whether you have them interacting with canon characters or striking out on their own in the universe, let's give some original characters some love.
This prompt was based on an idea by
sonnekinde
who suggested
"I thought it would be interesting to do something like an original character challenge. Taking the Buffyverse as an example: there are lots of stories in this universe, and most of them focus on the core group and the people they affiliate with. But there have to be so much more characters out there with stories to tell – children whose parents have been turned into vampires, people discovering the existence of vampires during season 8, the crew working on Harmony's show Harmony bites, and so on."
Now there are two ways we can structure this challenge. Either we can do it based on the shows (So one week would be an original character set in BTVS or ATS or Firefly, etc) or we could do it based on archetypes (So one week is a hero OC, a villian OC, etc). Of course, whatever the majority wants, that is how we will go. So just click a box in the poll to let us know which you prefer.
How should we structure the prompts for June?